Ok As its been a while since I did anything blog related due to the loss of my camera, here is the Kilau show, presented in reverse:
Katie's Mum presides over the opening about an hour in, carefully shot so it looks busy, well done Eric.
The finished article, first new work since the degree show.
Mere hours before it fell down.
Eoin helping me attach the big bulky bits to the wall.
Stage one, the Gaffer tape years finally complete.
Shitey photoshop mock up of what it will look like, hopefully.
A visual of bits and pieces attached to the schematic with some sort of order.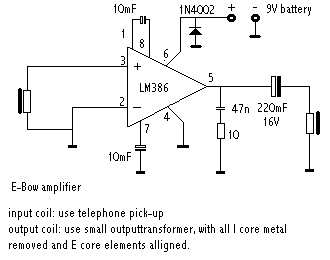 And the original Ebow schematic what I have ripped off, the secret key to the success of my work.